This is a numeric edit usercontrol which is made using FlatEdit and UpDown controls. I've made this in the hope someone from CJ can take a look at what's needed and maybe include something like this in the SuiteControls package.
Main features:
Min/Max properties
Allows negatives
Decimal places
Stops invalid text from being pasted or entered
Responds to mousewheel
Uses the local settings for decimal point and negative sign.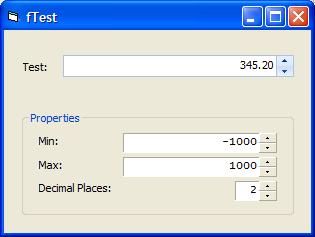 This is just a first attempt at replacing the need for ComponentOne TrueDBNumber control (which doesn't skin).
Feel free to suggest improvements, report bugs or even help out!
Feature still to add:
Number formatting - this might not be done (by me at least)
Option to hide UpDown control
Option to turn off MouseWheel
Download:
uploads/20080707_062555_cjNumberEdit.zip