Hi -
I've implemented a child class of CXTPDockingPaneOffice2003Theme to draw my own docking panels by overriding DrawFloatingFrame() and DrawCaption(). This gives me exactly what I want outside the client area.
Inside the frame, though, there's a one-pixel black line on the left and top sides which I don't want. When the pane is floated, there's an additional one-pixel border line on the left and right sides of the client area.
Here's what it looks like (you may have to zoom in to see the highlighted lines):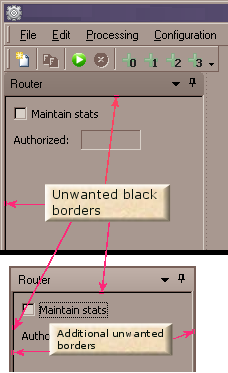 So, here's the question:
How do I remove the black line from the docked and floating states, and remove the additional borders from the floating state? I'm looking for a clean, flat look here.
thanks.
- robin (http://www.acquirer.com)