Codejock Toolkit Pro and Suite Pro v20.0 (Beta 1) Released!
(beta versions available only for the users with active subscriptions)
The release contains new features and fixes to be included into the final release of version 20.0, those include frequently requested strict C++ standard code compliance fixes, Windows 10 theme for various controls, MDI tear-off windows, the new Preview control, 3D charts additions and a number of highly requested fixes and minor features.
MDI tear-off windows
Improve productivity of the users of your software by allowing them working simultaneously in a number of detached document windows in multi-monitor or wide screen environments: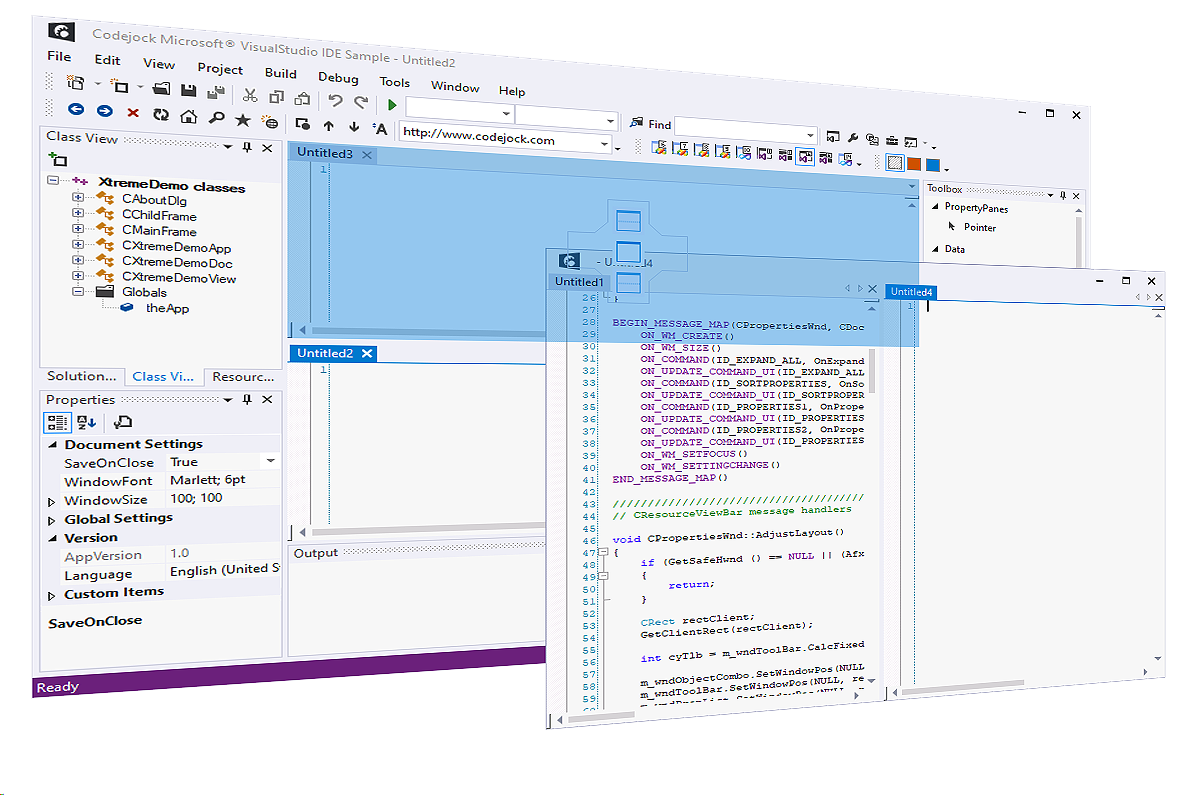 Windows 10 theme
Make your command bars and other controls look like Windows 10 in a desired accent color: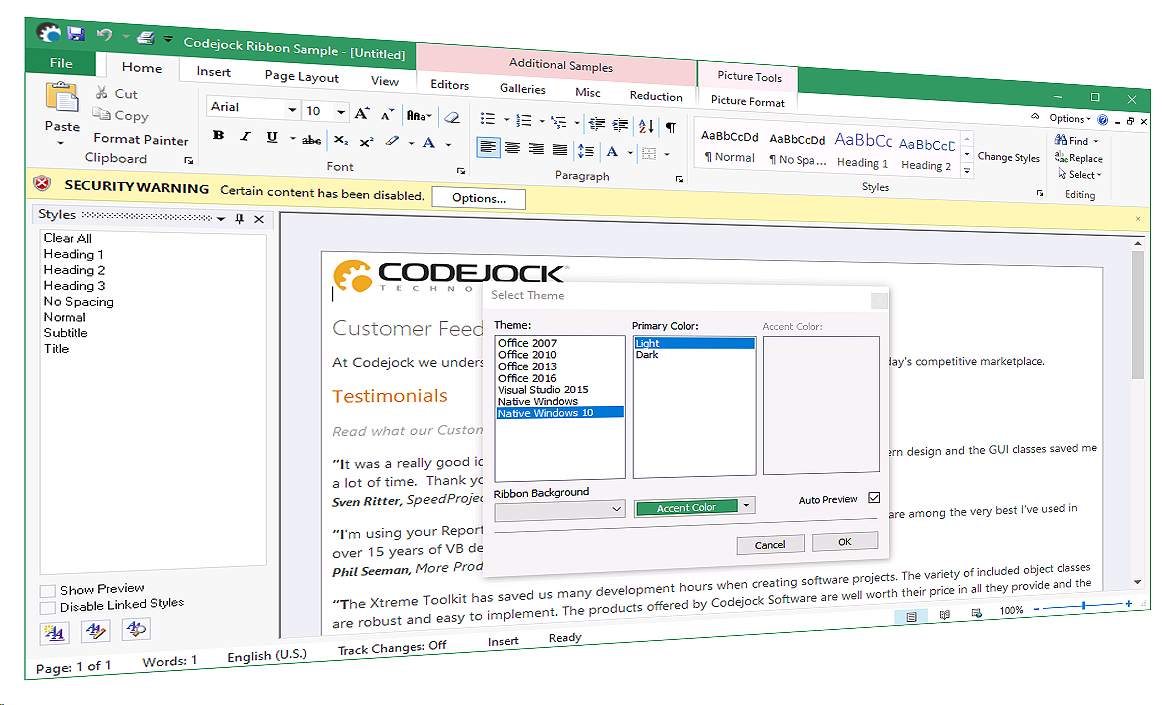 The Preview control
The new Preview control allows previewing various common file types or whatever file types that have system preview provider installed, those include common image formats like BMP, PNG, JPG, TIFF, WMF, GIF (including animated images), Unicode and ANSI plain text format, XAML, Outlook message (MSG), PDF, XPS, Microsoft Visio, Microsoft Word, Microsoft Excel, Microsoft PowerPoint and many other formats that Windows Explorer can generated previews for.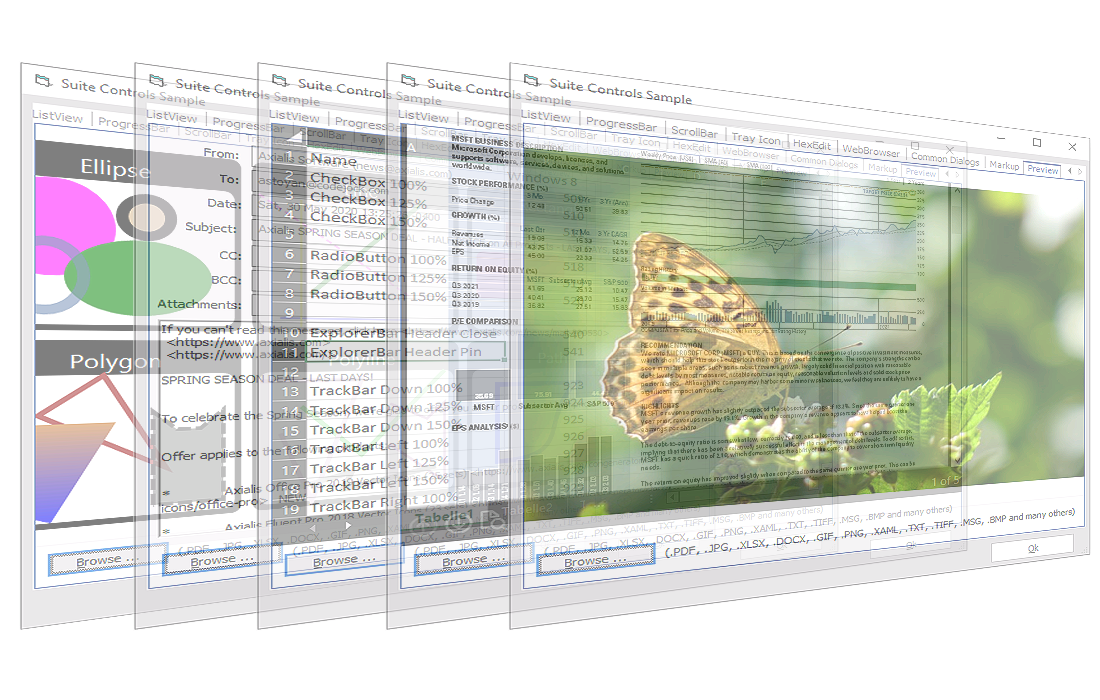 3D charts additions
Besides the new Funnel 3D chart style added, all existing 3D charts have been updated with the new configurable chart transparency feature that allows to achieve a glassy effect.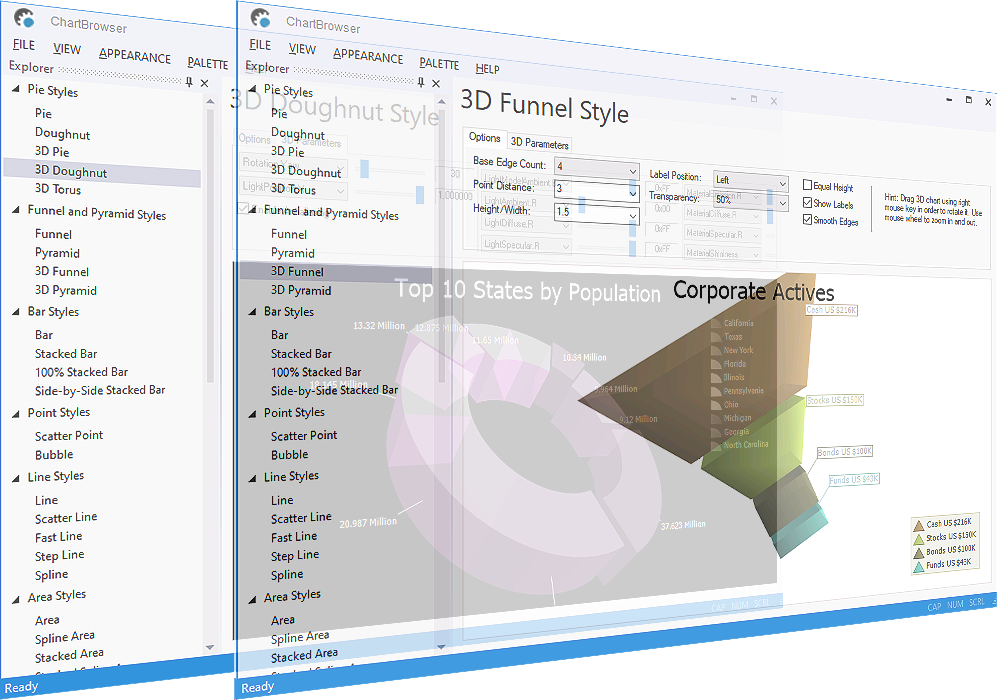 C++ standard conformance support
At Codejock we understand the need to follow the most strict C++ coding standards. Once this is fully supported by the underlying dependencies, we enable it in ToolkitPro. Starting with version 20 the user can enjoy enabling C++14 or C++17 coding standards using /std:c++14 or /std:c++17 compiler options respectively, in addition disabling permissive compiler mode, enabled maximum warning level and making any warning to be treat as an error (/permissive-, /Wall, /WX), and all that will result in a clean ToolkitPro compilation.
We'll be happy to hear all feedback from you about this release and we're grateful in advance for sharing your thoughts with us. Please refer to our release notes for this version on our website http://codejock.com/products/releasenotes/release_notes.asp" rel="nofollow - https://codejock.com/products/releasenotes/release_notes.asp , and use the following communication means for sharing your feedback with us:
http://forum.codejock.com" rel="nofollow - http://forum.codejock.com
http://support.codejock.com" rel="nofollow - http://support.codejock.com
http://www.facebook.com/codejocksoftware" rel="nofollow - https://www.facebook.com/codejocksoftware
We understand the importance of all feature requests. We are working our best to deliver all promised features as fast as possible. We hope that this release will exceed your expectations. More are in the works for future releases too.
-Codejock Development Team!