Codejock Toolkit Pro and Suite Pro v19.0 Released!
Version 19 release contains several new features and updates. These updates include support for Visual Studio 19 and Windows 10 skins in addition to many more features including the much-anticipated 3D Chart enhancements.
Here are just a few of the features that we've been working on for this release:
Toolkit Pro Application Wizard
New for Visual Studio 2013, 2015, 2017, and 2019. If you have chosen to install it using either Deploy Wizard or manually from this VSIX extension file (C:\Program Files (x86)\Codejock Software\MFC\Xtreme ToolkitPro v19.0.0\Utils\AppWizard\vc1xx\XTPWizard.vsix) you will be able to generate fully working applications with a set of predefined Toolkit Pro components and functionality in just a few mouse clicks! Hundreds of possible combinations of all our components and most popular settings allow you to create a solid foundation for your new great application, be it a simple dialog based app with a menu or a complex ribbon based app with a backstage, docking panes, task panels, skins, charts, property grid, etc.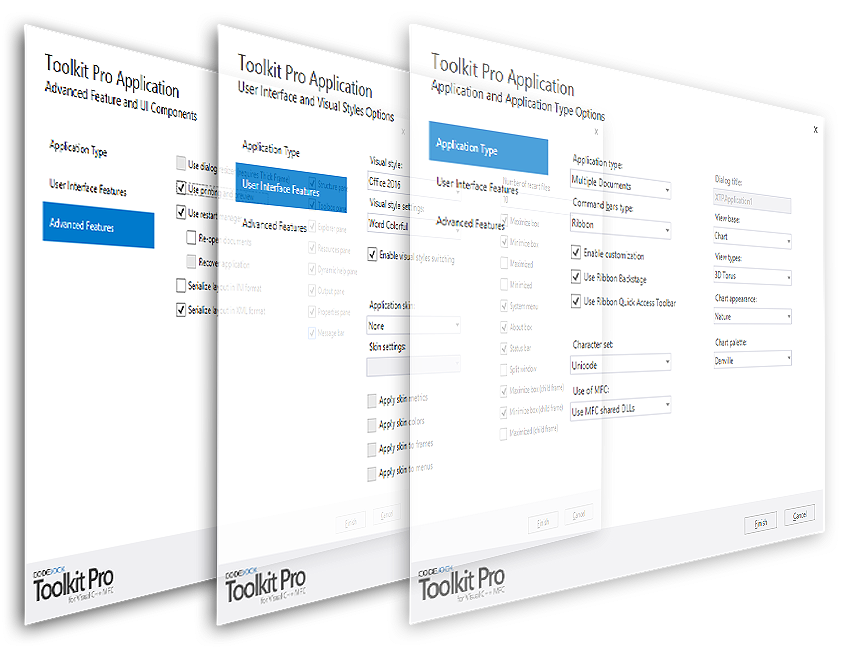 Vector Icons Support
This support is specifically for XAML icons, it's a big step towards seamless and complete DPI support by ToolkitPro and SuitePro driven applications. You are now able to load state specific XAML icons for a desired target width into image managers and take advantage of crisp and scalable icons in CommandBars, RibbonBar, and pretty much everywhere where image managers are used. The icons can be loaded from memory, resources, streams, can be serialized and deserialized just like normal icons. As it's quite a big feature many possible applicable areas will improve support for it in the course of the next maintenance updates and more and more XAML capabilities will get added overtime in order to ensure you can use any icons of your preference.

Windows 10 Skin
Added for Toolkit Pro and Suite Pro includes a number of supported color schemes. Give your application a consistent Windows 10-like appearance on all Windows OS versions.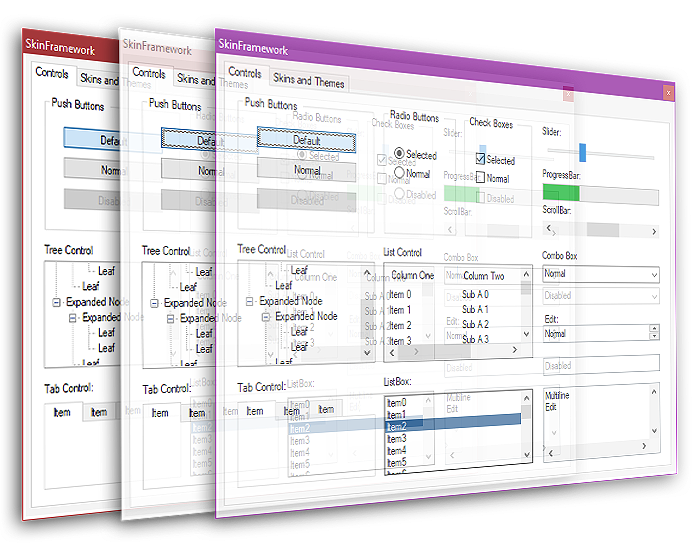 Utilities and Samples
Codejock samples and utilities have been significantly improved and applied a modern look so that you are able to not only work more efficiently with our tools, but also see and explore where and how you can apply all ToolkitPro and SuitePro capabilities at their best!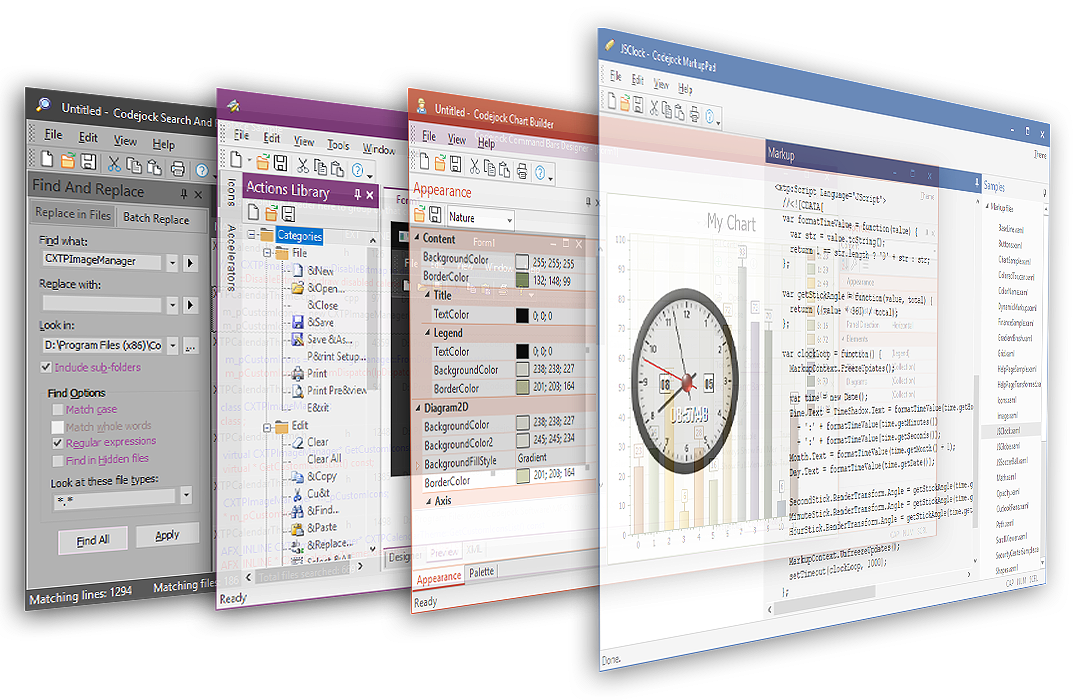 Viewbox and Opacity
This support has been added to Markup which allow scalable images and advanced image composition: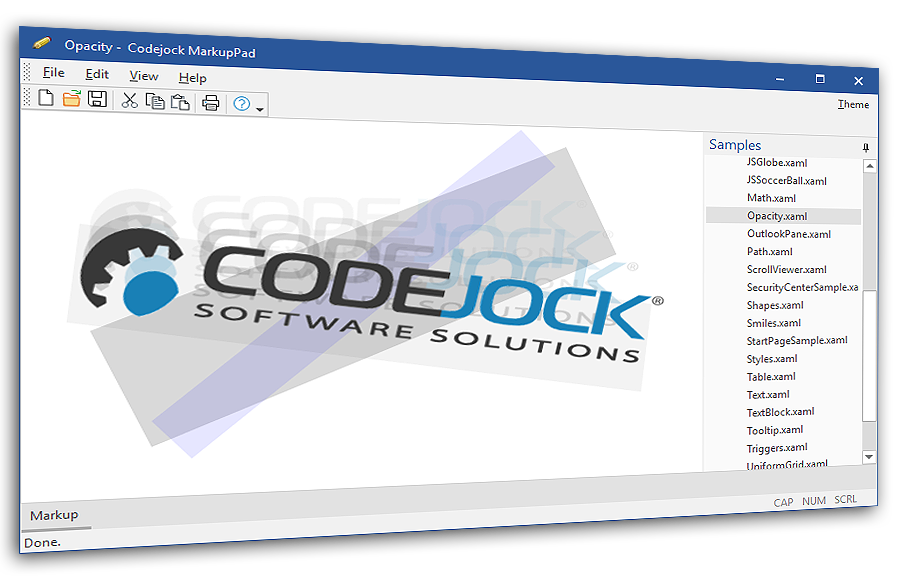 3D Pyramid Chart
3D pyramid chart support has been added, here are a few examples: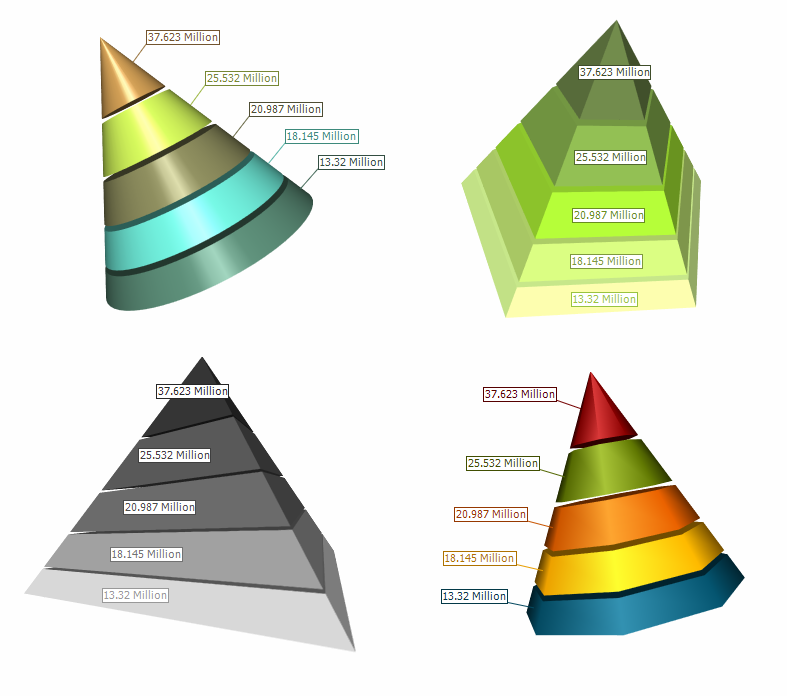 We'll be happy to hear all feedback from you about this release and we're grateful in advance for sharing your thoughts with us. Please refer to our release notes for this version on our website https://codejock.com/products/releasenotes/release_notes.asp" rel="nofollow - https://codejock.com/products/releasenotes/release_notes.asp , and use the following communication means for sharing your feedback with us:
http://forum.codejock.com" rel="nofollow - http://forum.codejock.com

http://support.codejock.com" rel="nofollow - http://support.codejock.com

https://facebook.com/codejocksoftware" rel="nofollow - https://facebook.com/codejocksoftware

We understand the importance of all feature requests. We are working our best to deliver all promised features as fast as possible. We hope that this release will exceed your expectations. More are in the works for future releases too.
- Codejock Development Team!