Hello,
in some cases the value of a multiline property grid item is not editable when selected the first time.
To reproduce the problem:
1. Build and Run the GridSample (Samples/PropertyGrid/GridSample)
2. Click the "Collapse/Expand All" button twice to collapse all entries
3. Open the "Custom Metrics" section by clicking on the arrow in front of the caption, the dialog should now look like the image below: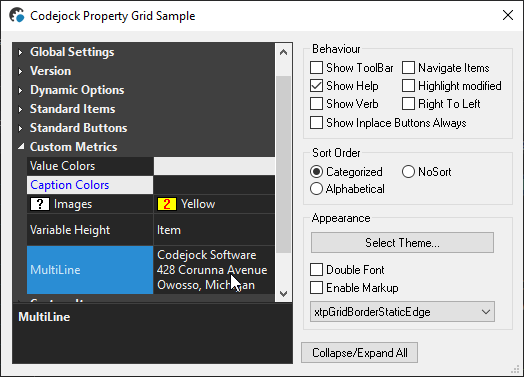 4. Click with mouse into the value field of the "Multiline" and type some keys
=> nothing happens, when moving the mouse (without pressing any mouse button) one can select the contents
5. When clicking a second time into the Multiline value field the editing works.
6. When changing dialog size, so that no vertical scrollbar appears, the editing works right after the first click into that value field.
I tested on Windows 10 with ToolkitPro v19.0, ToolkitPro 18.4 and ToolkitPro v9.81.

Best regards,
Holger