background color of CXTPRecentFileListBox
Please teach me how to change the background color of CXTPRecentFileListBox.
I want to change the color from white to theme color.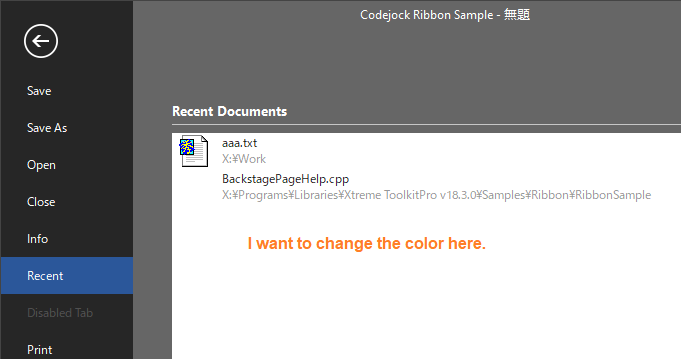 At the time of version 18.6.0, we could do it with the following changes.
but it does not work in 19.1.0.
> you need to call SetTransparent(FALSE) for gallery control.
> If you use CXTPRibbonBackstagePageRecent then see implementation of CXTPRibbonBackstagePageRecent::SetTheme(). It calls
> m_wndList.GetGallery()->SetTransparent(FALSE);
> before change theme.
>
> By default this option is false, see constructor CXTPControlGallery::CXTPControlGallery().
>
> Set breakpoint in CXTPControlGallery::SetTransparent() or data breakpoint for
> CXTPControlGallery::m_bTransparent to see where it is changed.
[Development environment]
Windows10 Pro Japanese
VisualStudio2015
Toolkit Pro for Visual C++ 19.1.0