Toolkit Pro and Suite Pro 19.0 beta 2 is currently available (for active subscribers only)
and it's waiting for your feedback!
In case you have missed it or had no chance to try it out yet, please give it a try and share your thoughts.
This update does not contain all features you're going to see in the final 19.0 release, but it already contains some updates that many users have been waiting for, and we want to hear back from you about those changes while we're working on getting things done for the final release! You can find the complete release notes for this update on our web-site - https://codejock.com/products/releasenotes/release_notes.asp
In particular you're going to like these most sound features from this update:
Feature #1: A brand new cool Toolkit Pro Application Wizard for Visual Studio 2013, 2015, 2017, 2019. If you have chosen to install it using either Deploy Wizard or manually from this VSIX extension file (C:\Program Files (x86)\Codejock Software\MFC\Xtreme ToolkitPro v19.0.0.061719\Utils\AppWizard\vc1xx\XTPWizard.vsix) you will be able to generate fully working applications with a set of predefined Toolkit Pro components and functionality in just a few mouse clicks! Hundreds of possible combinations of all our components and most popular settings allow you to create a solid foundation for your new great application, be it a simple dialog based app with a menu or a complex ribbon based app with a backstage, docking panes, task panels, skins, charts, property grid, etc.
Look at this sample application generated by Toolkit Pro Application Wizard: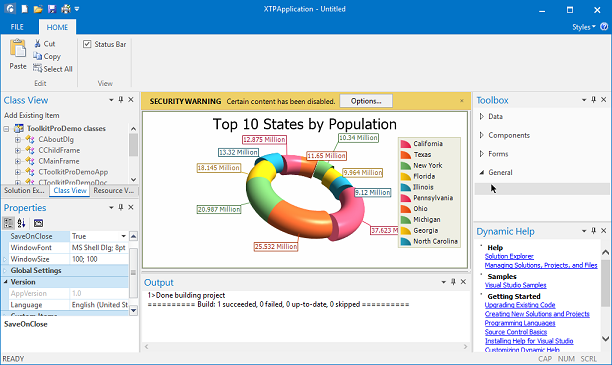 Feature #2: Both Toolkit Pro and Suite Pro now have Windows 10 skin with a number of color schemes supported. Give your application a consistent Windows 10-like appearance on all Windows OS versions.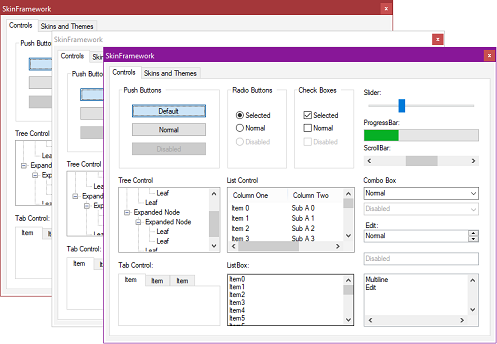 Feature #3: All utilities and many samples have been significantly improved and applied a modern look so that you are able not only work more efficiently with our tools, but also see and explore where and how you can apply all Toolkit Pro capabilities at their best!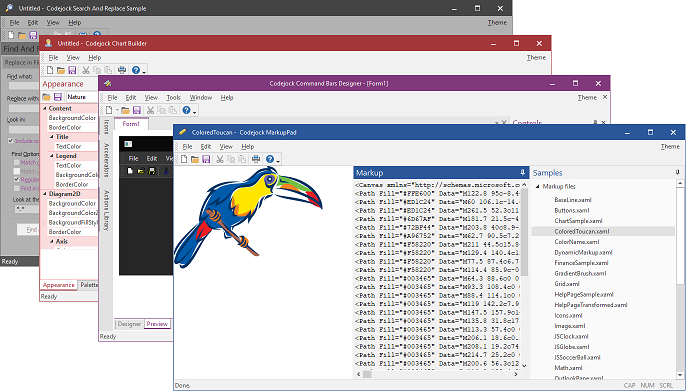 We have already received some feedbacks (thanks for those, by the way!) and there is still work in progress going on, including wishes and issue reports we have received for this update, and we'll do our best to address all feedbacks for the final release. That's why we want to hear from you early.
If you have an active Toolkit Pro or Suite Pro subscription but you don't know where to download this beta update from, login to www.codejock.com web-site using your credentials, go to My Account, find and click Product Downloads, the displayed list of your active subscriptions should contain either Toolkit Pro, Suite Pro, or both, open any of those subscriptions and find Beta Download right below your current subscription, like this: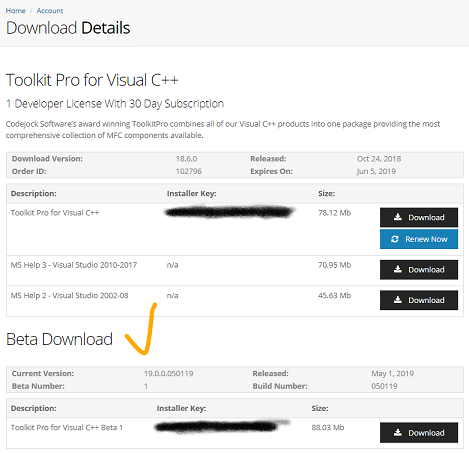 Thank you!