This worked fine in 15.3.1 (dropdown was white), in 18.5.0 it doesn't.
Setting the background of a CXTPComboBox with SetBackColor(red) gives the following result: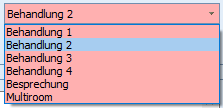 The dropdown box is filled with same same color like the edit control.
IMHO SetBackColor() should only set the background of the edit control and NOT of the dropdown, which is uncommon. The dropdown must remain in system standard background, which is white here.
Can you please provide a fix?