When I upgraded from 17.3 to 18 all the ribbon icons became fuzzy. Not the best example below but here we can see that the 18 images become larger (and this without any changes in the code).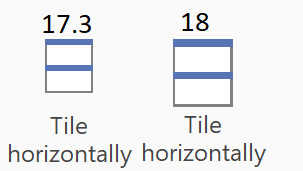 The code is
<CODE>
pCommandBars->GetPaintManager()->m_bAutoResizeIcons = TRUE;
pCommandBars->GetCommandBarsOptions()->SetDPIScallingOptions(TRUE);
</CODE>
and if I set m_bAutoResizeIcons to false it looks good for me (Windows 10), not sure how it will look under other OS:es. BUT, then the minitoolbar is too small. I only have 16 and 32 px versions of my icons.
What should I do to keep my ribbon as in 17.3 but still get properly sized mini toolbar icons?