Hi,
I'm facing the same issue.
Actually it seems the problem was partially fixed by updgrading to version 18.3.
In version 18.2, I had something like this

with version 18.3 it is better, but the top of ribbon is still darker

I realized this problem happen when there is no tab in ribbon bar.
When tab is visible, the color are correct.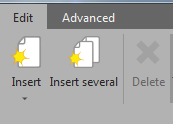 the darker gray seems to be the color used for the tab zone.
This happen with Office 2015/2016 theme. Using Old Office 2007 theme, there is no such problem.
I'm not expecting to have a new version 18.4, but if you can provide some code fix, so I could patch my own version, it would be great.
Fabien