Hi;
I made a few more tests and after removing skinning from the application
  std::wstring StylesPath=GetModuleDirectory();
  StylesPath.append(L"Styles\\Office2010.cjstyles");

  if (XTPSkinManager()->LoadSkin(StylesPath.c_str(), L"NormalBlack.ini"))
    XTPSkinManager()->SetApplyOptions(xtpSkinApplyFrame | xtpSkinApplyColors | xtpSkinApplyMetrics | xtpSkinApplyMenus);
the old combo button appeared. So it's a skinning related bug!
The combination of skinning and AddComboButton(
Inside=TRUE
) leads to the drawing problem!
Setting the parameter to FALSE has no effect in my case, because its the last column of the control and therefore the button is still drawn inside the item area.
But now I have another problem!
As soon as I click onto the combo button the edit part of the item disappears (is cleared)! Why?
Here's a screenshot of this unwanted behaviour: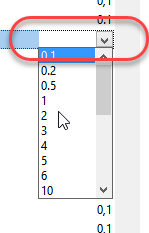 When I then select an item in the list the list is closed but the item stays empty. When I then change the selection to another record, the text of the new selected item is drawn. Strange!
Therefore I need a fix for two problems:
Button behaviour when skinning is enabled.
Cleareditem text part when combo button is pressed.
TIA