The XTP 17 BETA 3 XAML parser has some problems.
First, there's something wrong with how the parser handles white space. Here's just one example. If you enter the following into MarkupPad you'll see that whitespace is not handled correctly:
<ScrollViewer TextBlock.FontFamily="Tahoma">
<TextBlock TextWrapping="Wrap" Margin="0,10,0,0">
The Drive Space Panel provides you with an at-a-glance view of the used and free
space on <Bold>each drive in your computer</Bold>.
</TextBlock>
</ScrollViewer>
And here's how it actually gets rendered, which is incorrect:

Note that the above incorrectly handling of whitespace is only present if the scrollviewer is used. If you remove the ScrollViewer, the parser will actually add extra white space rather than remove it.
Also, RadioButton controls are not rendering correctly when Office 2010 themes are used. They are strangely pixelated, rather than smooth as they were in v16. Here's a screenshot of what I mean: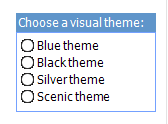 It's very important that markup render correctly, and I hope these types of issues will be addressed soon.
Regards,
Mark R.