Hi;
I try to create a CXTPTabControl that is contained within the client area of the main frame. This CXTPTabControl contains CXTPResizeDialog derived dialogs on each tab (see Screenshot below).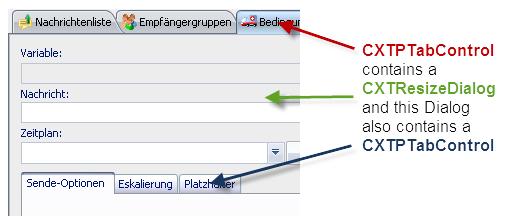 On one of those dialogs I need an additional CXTPTabControl. So far so good. I'm able to create all controls as required, but the tab control contained inside the CXTPResizeDialog never receives any of the mouse messages and also no keyboard messages.
What am I doing wrong? Isn't it possible to create such nested tab control windows?
Any further help is very welcome.